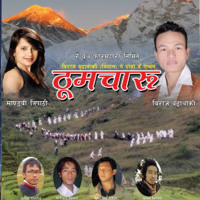 RUNG YOUTH FORUM proudly presents "Thum Charu", the second music album by Biraj Budathoki (Thiyal). RYF took the initiative & produced "Thum Charu" as it is in line with the common vision we share. It has 7 tracks with different flavours that is sure to appeal to all rungmung. Biraj is supported by Mandavi Tripathi, a well-known Nepali Singer as vocalist.
Thum-Charu music sounds fresh even as they preserve the songs, stories & traditions in which they are firmly grounded.
Lyrics are finely crafted by likes of Karan Singh Budathoki, Danraj Budathoki, Jaspal Singh Budathoki & Biraj himself. The songs, so lyrically rich, carry the power of fine poetry. These songs are emotionally powerful, spellbinding rhythms & at the same time, it has a cinematographic quality. Close your eyes & you see the stories. They accentuate the narrative. They celebrate subtlety.
Rung Youth Forum will look after the sales & distribution in major cities. We request all individuals to come out & support the little efforts we make in terms of preserving our tradition, culture, Thum-Charu in whatever way we do.
Kindly purchase a copy of CD as a contribution towards our future activities.
For Enquiry: Individuals may drop mail to rungyouth(0)gmail.com or call 9411588962/ 9412004796/09873987203
******************PEOPLE WHO ENCOURAGED US********************
We have a list of individuals who came forward & encouraged us in every possible way in this journey of "THUM-CHARU". Our sincere thanks to one & all & wish we keep getting support & encouragement like this in our future endeavours'.
Yogesh Garbiyal (Rung Youth Forum)

Gopichan Thiyal (Yuwa Pratinidhi Rapang)
Gyalbo Singh Bohra (Adhyksha Vyasi Sauka Samaj)
Smt. Amrita Hyanki (Sanskritik Sachiv, Rung Kalyan Sanstha)
Smt. Gangotri Gunjyal (Dehradun)
Urmila Budathoki (Salahakar)
Jaspal Budathoki (Geetkar)
Geeta Raypa (Up Mahasachiv RKS)
Bisan Singh Sonal (Dehradun)
Pushpa Gunjyal (Rae-Bareilly)
Dileep Singh Budathoki (samaj Sevi)

Mangal Singh Hyanki(Samaj Sevi)

Rakesh Budathoki(BDVL Bank)

Karan Singh Budathoki (Geetkar/Samaj sevi)
Dhanraj Budathoki (Geetkar)
Kabin Thiyal (Yuwa Pratinidhi Rapang)

Aman Bohra (OSLO Norway University)
Subash Thiyal (South Korea)